While the first modern Olympic Games were held in 1896, it wasn't until 1924 that the first edition of the Winter Olympics was held in Chamonix in France, at the foot of Mont Blanc. Winter sports had been a part of the 'normal' Olympic Games on and of before they got their own special event. Alternatively, there were the Nordic Games, held for the first time in 1901 and then every four years afterwards, but these were very much a Swedish affair.
Because of the difficulty of hosting winter sports at the 'normal' Olympics held during the summer, the IOC asked of the Olympic host country of 1924, France, to organize a separate 'Winter Sports week' in the same year. This proved to be a great success, as over 250 athletes from 16 different countries competed. Finland and Norway won 28 medals, more than all the other countries combined... The 9 sports practiced during this first Winter Olympics were ice hockey, speed skating, figure skating, curling, bobsleigh, ski jumping, cross-country skiing, Nordic combined and military patrol (a predecessor to the current biathlon).
The IOC did not yet call this 'Winter Sports week' the first Winter Olympics until retrospectively. In 1925, they decided to make the Winter Olympics separate from the Summer edition and designated Chamonix, 1924 as the first Winter Olympics.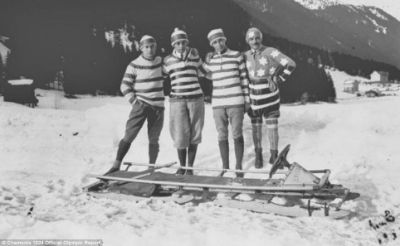 Also: check out this really funny interview in which one of our Dutch speedskating coaches has a lively discussion about Olympic success on American TV! (I don't necessarily agree with everything he says, but I do like to see how passionately he defends The Netherlands and the Dutch sports system)